Welcome to
Luxury villa with private heated pool, hot tub, mini golf, spacious interior, …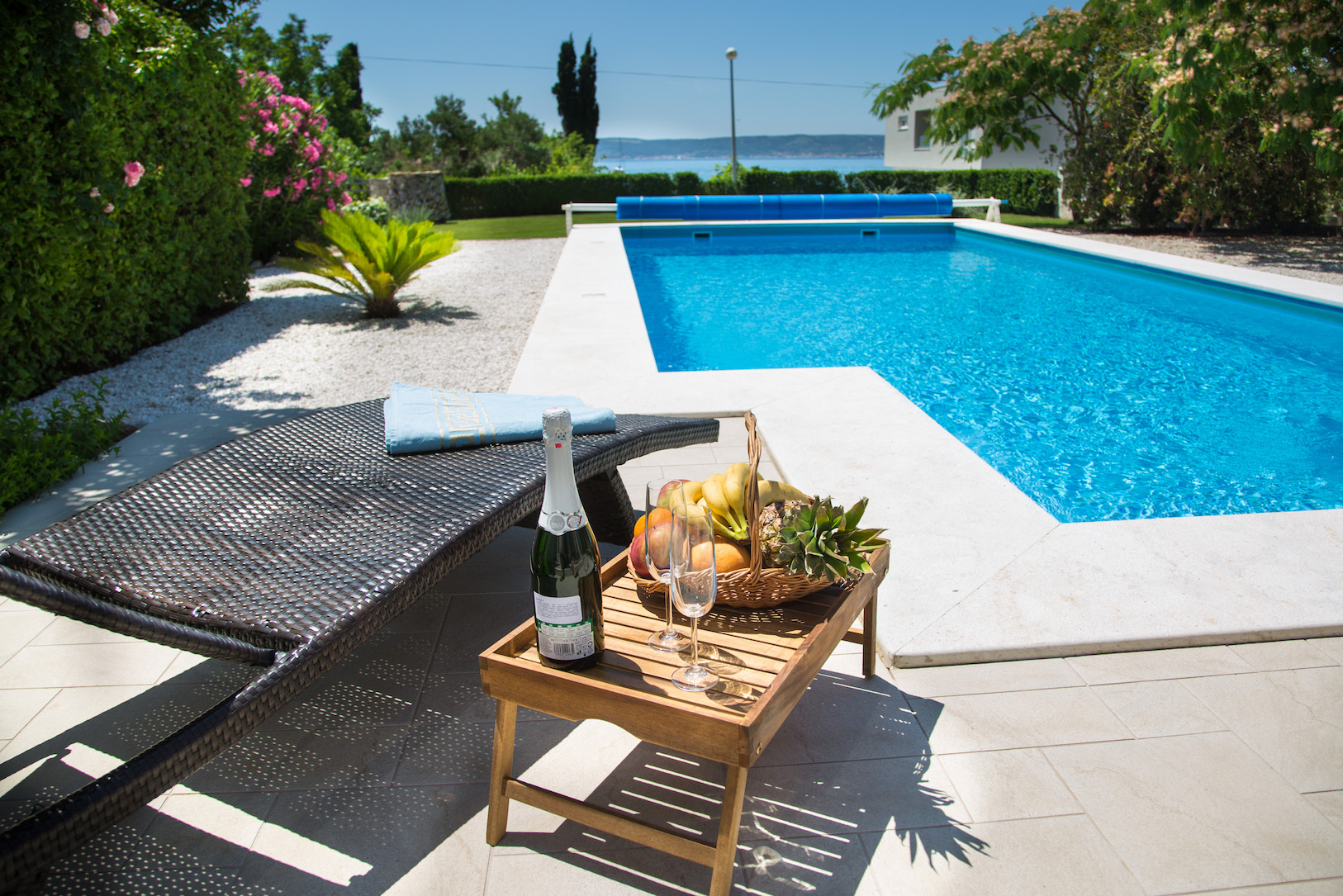 3 Bedrooms, 2 Bathrooms, Private Swimming Pool, Hot Tube, Mini Golf, Amazing View, ...
The house area of 120 m2 per floor which is located on the estate of 2000 m2 is designed for a luxurious stay for 8 people.
There are three bedrooms, each with a double bed, air conditioning, wardrobe and cupboard. Two luxury bathrooms, one with bath and the other with shower and washing machine.
Guests have an amazing sea view from the terrace surrounding the private heated swimming pool.
3 Bedrooms, 2 Bathrooms, Private Swimming Pool, Hot Tube,
Mini Golf, Amazing View
The city of Kaštela lies in the coast of the Kaštela bay under the Kozjak Mountain. With the city of Solin and the cities of Trogir and Split – both on the UNESCO list of protected patrimony makes them an urban complex.
Although the area of Kaštela is indisputably a rich archeological site with remains dating back through history – since prehistory to the ancient Greek, Roman and Croatian times – Kaštela is mostly renowned for its fortifications – the castles (Kaštela). Urban settlements Kaštel Štafilić, Kaštel Novi, Kaštel Stari, Kaštel Lukšić, Kaštel Kambelovac, Kaštel Gomilica and Kaštel Sučurac were built at the end of 15th and during the 16 century as a sequence of fortifications – castles, as well as villages surrounded by massive walls that today form the city of Kaštela.
We invite you to take a walking tour at the promenades thru Kaštela and old town central areas that are often praised for their particularly interesting architecture of castles and churches.
All the fortifications and churches are open for public viewing and can be visited, but it is to be mentioned as extraordinary sightseeing spot the little church of Virgin Stomoria, the Biblical garden in Kaštel Novi, the Botanical garden and the Museum of the city of Kaštela in Kaštel Lukšić.
The permanent exhibition of the museum is the testimony praising the history of our town. Cultural and entertainment shows (exhibitions, concerts, fishermen's parties), diverse sportive and recreational possibilities (tennis, sailing, hiking, …), as well as parties on the terraces of the taverns accompanied by homemade food specialties, make Kaštela an interesting place for everyone.
In addition, excellent traffic connections (Split Airport – Kaštela, highway, railroad) shall enable an extremely fast arrival to all chance travelers passing by our town.
The natural beach resort can be reached within two minutes from house, an excellent restaurant in five and the town center in ten minutes by walking.
The beach which is 100 meters away from the house is marked by water of excellent quality, with natural shade from the sunshine during the day due to nearby trees. There is a 15 km long path specifically aimed for riding and walking along the coast.
All seven little historical cities with medieval castles can be seen either by walking or riding.
A real treat to go back to Villa Lukas for the third time after a 5 year break. Mate and his family could not be more accommodating and helpful. They are completely unobtrusive but always there to offer support and answer questions, arranging transport and helping with any issue - the perfect host.
The Villa is spotlessly clean and immaculately presented. The air con is so necessary as the temperatures during our week were a constant 36 degrees and beautiful. The pool area, hot tub and other facilities were so good and its really good to see how much has been added over the years since we first came to the villa. It has been done with so much thought and consideration for what guests look for.
The Baletna Skola is just great still - we ate there so much - and they remembered us after 5 years (not sure that is a good thing) but it says a lot about the type of service that you get in this part of the world. We also went to B-Cool for lunch and cocktails on the beach just 5 mins walk away and visited Mala Mora which was recommended by Mate and also very good (if not a little more expensive).
Overall, we could not have asked for a better break - we came to relax and not do much and we achieved this in a wonderful environment and villa. Thanks Mate we will be back
Had an amazing time staying here with my family. Mate was a lovely and gracious host. He took us for a tour of Kastella and to the grocery store upon arrival. He also helped arrange an awesome sailing day and bike rentals. The villa is spacious, perfectly clean, very well designed and comfortable. The pool and grounds are gorgeous. Ocean views and close to seaside and great local restaurants. Great for families or friends looking for a relaxing and luxurious vacation. Close to Split and Trogir. Would return again in a second. Loved it!
We loved our stay at this villa. The villa is spacious and modern. Air con in every room was very welcome as the weather was so gorgeously hot! The pool with its views of the sea and mountains is fabulous. We had a totally relaxing week. Although we had a car to explore, it was also nice to be able to walk to local bars, restaurants and beaches. Mate was very helpful showing us the local area so we got our bearings but also respected our privacy. Would stay again if we were to visit the area again in the future.
The owner was very friendly came out to help us find the villa and gave us a little tour of the area. The villa itself is modern, light,airy and very clean. It has a very nice pool, sundeck and terrace with a view of the sea. The beds are also very comfortable. The villa is well situated to explore Split, Hvar, Kastela and Trigur. It is also only a few miles to the airport.
This was the loveliest apartment that we have ever stayed in. Gorgeous pool and hot tub! Mate was a fabulous host helping in every way he could. Thank you!!!